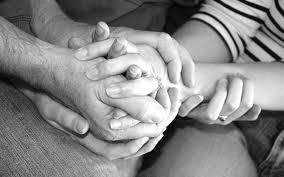 Testimonials
"Erin is an Amazing Counselor. I would like to share what Erin has done for me. I have been seeing Erin for over a year, she means the world to me and I am so Thankful God brought her into my Life. I had never been to counseling in my life, and was raised that what goes on in the home stays in the home. Upon my first visit, I was very frightened, not knowing what to expect. During my time with Erin I felt love and acceptance and knew she was the Safe Haven I had been yearning for, for years. With Erin's counseling I have developed Trust and Faith in her allowing me to share things in my life that I have felt shame, anger, guilt, and fear, for years, with Erin's help I now have Freedom. The Truth has Set Me Free. Erin has and is teaching me to see out of the box, with setting boundaries, coping skills and techniques to live my life in Peace, and Self Love. As I learn and grow Erin challenges me to be the best I can be. Erin I Love You. You are a Servant of God, Healing the Sick and Wounded, for this I give the You Much Thanks!"
Female Patient
"I worked with Jen when she was the Prevention Counselor in our school. Jen was fantastic reaching out and getting students involved in the Students Against Destructive Decisions organization. She also built great rapport and brought prevention lessons by going into classrooms teaching Life Skills curriculum. Jen left for private practice but has come back to our school to volunteer for events when we call her. After being gone for 2 years, students are still excited to see her and swarm around her. She's like a rock star! While she was in our school I felt confident referring students to Jen because I observed her ability to connect with students in a way that made them feel safe and motivated to do the work necessary for positive change. She is still top on my list when referring students and families for counseling outside our school. I admire Jen's counseling abilities, knowledge of ethics, and her ability to connect and build trust."
Joan H. (School Counselor)
"Janet Opoien Twedt has helped me tremendously during the time that I have worked with her. I have chronic depression and also suffer from PTSD specifically related to my husband's sudden death. She takes a very pragmatic approach, combined with deep compassion, so that I know that she cares very much about my situation but that she is also going to be very matter-of-fact and down-to –earth with her comments and guidance. She has a warm sense of humor, which I appreciate because I believe that humor helps me keep my life in balance and perspective. She holds my 'big picture' up to me so that I don't lose sight of where I've been and where I'm going. She can take what I tell her and reflect it back to me in a way that helps me make sense of what often feels like a jumble of thoughts and feelings. She offers 'tools' for me to use to help me self-monitor my level of depression, such as suggesting a depression scale of 1 to 10. She understands that being able to name how I feel empowers me. She focuses on measureable improvement with concrete, therapeutic goals so that I know what I'm working to accomplish."
Female Client
"Erin has been compassionate and caring and does a great job listening to me every time I am in her office. She never hesitates to show me that she too struggles but talks with me about faith and encourages me to be the best that I can be. She is great at her job and if you ask me she is the epitome of a Proverbs 31 woman! I truly thank her. The one thing I value and love is that she is like a friend I can laugh with, cry with, and trust too. She is never judgmental and she never takes notes during our sessions which means she is always engaged and listening to me fully. Always ready to help me with whatever I need."
Female Patient
"I am a social worker that works with the HIV positive population. Physical health is not the only issue this population deals with on an ongoing basis and depression and anxiety are two of the main mental health conditions my patients experience. This can disrupt the infected individual's emotional equilibrium, sense of self, relationships with others, and their overall purpose in life.
I have referred many individuals to Erin for counseling services. Erin has been a great asset to improving overall patient health and is effective in promoting healthy behaviors, self-respect, and personal dignity. Erin is excellent at empowering my patient's to make decisions and is great at collaborating with the healthcare team to promote healthy choices and improve the mental health of many of my HIV positive patients. I will refer my patients with mental health needs to her in the years to come."
Vicki Harkness, BSW
Ryan White Part C Social Worker
"Jen is an outstanding counselor! I have had the opportunity to work with Jen in our school when she was our Prevention Counselor before moving on to private practice. Her ability to establish professional and welcoming relationships with both students and staff is one of her true gifts. Jen makes people feel comfortable when you first meet her. Our students truly enjoyed her time in the classroom and looked forward to her Life Skills prevention lessons. I also had the opportunity to co counsel with Jen and her skills and talent in working with young people are evident. She is professional, ethical, inviting and accepting. Her desire to assist our students in any way possible was established through her commitment to various programs and projects she was responsible for in our Middle School. Jen's counseling skills and her ability to create an amazing rapport with others sets her apart as an outstanding counselor!"
Wendy K. (School Counselor)
"I provide Erin with interpretation services for her international patients. This has allowed me to observe the way she treats the individuals she works with. I found her to be caring, helpful, and passionate about her patient's wellbeing."
Mac
"I was struggling with the challenges of retirement, and my daughter suggested that I see her therapist Janet Opoien Twedt. My 40-year-old daughter had worked with Janet on various challenges related to my daughter's own life-stage issues, and she believed that Janet could help me with my 63-year-old self's struggles. What Janet did best was help me normalize what I was feeling and help me see clearly that the challenges that I was dealing with were life-stage related rather than my life falling apart, which is how I felt before I started working with her. She helped me weather the uncertainties of beginning retirement, and then she helped me focus on how I can work on living this next life-stage with joy and contentment."
"Erin Sanford is an amazing person. She not only has a journey of her own, but finds inspiration in guiding others through their journey. When I first saw Erin I was stuck. I knew I was stuck. She befriended me in one of the hardest times in my life. Erin assisted me to start living and looking forward to the future instead of living in the past. Erin is very passionate about helping others. Having Erin as a counselor, I am not ashamed of my "mental illness". I am grateful of my "mental illness" because I am blessed to have an admirable child of God encourage me through this journey called life."
Miss B
"Erin has worked with both my wife and me. We see her individually as well as for couples counseling. There have been many times where we have come to her office in complete brokenness and wondering if we could keep going. We were stuck in a very dark and ugly place and the best we could say about each other was that we had a good history (we have been married 15+ years). We were on the edge of divorce and came to Erin as a last ditch effort to rescue our marriage and to try and protect our kids from having to go through the tragedy of divorce. When we leave her office we always seem to have a renewed outlook on things and our marriage has gone from surviving to thriving. She is patient and kind toward us and offers a different outlook on things. We are grateful for Erin and would encourage others to seek out her services. She has helped our family tremendously."
Male Patient
"Janet is very open minded, nonjudgmental, and listens very well. She guided me without me even knowing it. I found that her experience and knowledge in the feedback she gave me really made a difference in my life. It helped me feel empowered in seeing my potential.
Janet is wise and strong, reliable and dependable. I can count on her. I knew what I would get and that I would be supported. I picked up on her strength and it empowered me to believe in my own strength."
"When I met Erin, I was in a very toxic and rather abusive relationship with a woman which eroded much of my confidence and self-image. She helped me to see how there were many events in my life that had contributed to the depression I was experiencing. Counseling with her has allowed me to discover a much stronger, confident and self-approving person within myself. I have been fortunate to work with Erin for several years now and she has helped me become a better person. She always senses when I may be stumbling on my path of growth, weighed down by self-imposed negativity, and offers kind and helpful insights that are beacons of light in one's dark thoughts. She always knows exactly the right questions to ask so that I may see the positive steps that I need to take. No matter how I may have felt upon entering her office, I always feel better when I leave. Truthfully, I feel that so much of the success in my personal and business life has come from her helping me to reach my full potential."
Male Patient
"Erin has a very good rapport with our individuals that she sees for therapy. She has a gentle yet assertive approach and is consistent with them. She provides timely feedback for staff as well to help enforce the skills the individuals learn during their sessions. She has an unwavering passion for her job. Our individuals have developed a very positive relationship with Erin and we highly recommend her services."
-M.K. counseling referral source
أيرين هى من جعلنى أبدأ حياة من جديد و أحب الحياة بعدما كنت يائسا منها و غلمتنى كيف أبداء من الصفر. انها لطيفه و صادقه فى تعاملها و ذكيه و تحب أن تساعد الناس و أنا شخصيا أحب أن أكلمها عن حياتى الشخصيه و أصارحها بكل شىء يخصنى لأنى أثق بها جدا.
English translation:
"Erin made me start a new life and love it after I lost hope. She guided me starting and building my new life from nothing. She is sweet, honest in dealing with me, smart and loves to help people. Personally I love to speak with her about my personal affairs; I always trust and confide in her."
International Patient